Sunset Dinner Cruise - North Borneo Cruises
NORTH BORNEO CRUISES (SUNSET DINNER CRUISE)
TOUR CODE: ABK-NBC01
REGION: KOTA KINABALU
CRUISE DURATION: 16:50 - 19:00 Hrs (Approx. 2 Hours)
REGISTRATION TIME: 16:30 Hrs
DEPATURE TIME: 16:50 Hrs
MEETING POINT: Sutera Marina Jetty
* All timings are estimated and for reference purposes only. Actual timing will be provided prior to your departure.
Tour Highlights
2 hours onboard the luxurious North Borneo Cruises around the TARP Islands & Kota Kinabalu City Waterfront
Served buffet on high seas
Night breezes with a View of the lively Kota Kinabalu Waterfront
Live band Entertainment On Board
Overview of Tour
The most sought after culinary experience in North Borneo - All aboard Kota Kinabalu's First and Only Dinner Cruise, taking you across the sultry South China Sea at its most beautiful during sunset and into the night where city lights take over the coastline. The 2hr voyage will be a feast for the senses with scenic views, international buffet spread and music from our live acts-- so bring both your camera and dancing shoes.
Overview of Location
Kota Kinabalu delivers some of the best sunsets in the whole of South East Asia—even better when paired with a unique dining experience on the North Borneo Cruises. Take sightseeing up a notch with coastal views from a breezy upper-deck and create treasured moments under a starlit sky as you glide pass Kota Kinabalu's waterfront.
Cruise Location
Sample Itinerary
4.30PM - Your tropical evening on the North Borneo Cruise begins at Sutera Harbour Marina Jetty. Get ready to become acquainted with the charms of Kota Kinabalu on a whole new level.
4.50PM - All aboard! Your evening unfolds along the sultry sun-tinged South China Sea, cruising pass the islands and water villages that dot Sabah's west coast.
You are free to wander around the vessel. Panoramic ocean views, warmth of the setting sun and gentle sea breeze grace the upper-deck while a live band serenades the ethnic themed air-conditioned restaurant below with acoustic favorites.
5:30PM - Dinner will be served. Time to sink your teeth into Sabah's most sought after culinary experience.
As the sun sets and the stars come out, Kota Kinabalu's coastline now comes alive with dazzling city night lights. The North Borneo Cruise will glide across the Waterfront as you indulge in dessert or your next glass of wine.
7.00PM - Your rendezvous at sea comes to an end. You will disembark from the cruise at the Sutera Harbour Marina Jetty.
Meal: Served buffet
~ End of Tour ~
Tour Prices
CATEGORY
International Market
(Per Pax)
Malaysia Market
(Per Pax)
Adult Traveller

MYR 365
MYR 295
MYR 365
MYR 195
Child Traveller
3 - 11 Years Old
MYR 230
MYR 130
MYR 230
MYR 80
Infant Traveller
0 - 2 Years Old
MYR 80
MYR 40
MYR 80
MYR 40
Note:
- Rate Per Person is based on Join-In Tour Basis (shared guide & vehicle).
- All rates displayed are quoted in Ringgit Malaysia (MYR).
- All rates displayed are inclusive of 0% Goods and Services Tax (GST).
- Tables and Seats are allocated onboard the cruises, sharing-table basis. Table seating arrangement is based on 2 person per table.
- Single traveller bookings are accepted.
- Additional Peak Season Charges are applicable during Daily Departure Sessions for Public Holidays & Eve of Public Holidays.
- Optional Return hotel transfers (KK City Hotel/Sutera Marina Jetty/KK City Hotel) are available at MYR 30/pax.
Child Policy:
- Child rate is applicable for Children aged between 3-11 years.
- Infant rate is applicable for Infants between 0-2 years old.
- No seats will be allocated for Infants.
Inclusion
Meals
Served Buffet, Free Flow Coffee, Tea, & Drinking Water
Inclusions
2-hours cruise ride (Join-In Basis), 01 International Served Buffet, Live Entertainment on board, and English-speaking crew.
Exclusions
Return Hotel Transfers (Optional), Alcohol (optional), Personal expenses, Personal Travel Insurance, and Any Items not mentioned.
Recommended Attire
Terms & Conditions
Safety and Health Precautionary Measures
We only allow a maximum of 70 passengers for every session. This is to avoid overcrowding and enhance safe distancing.
Latest Update as of 23 Sep 2020: We are not accepting passengers who are arriving from Lahad Datu / Tawau / Semporna / Kunak within the last 14 days until further notice. You are also required to declare if you have visited any of the aforementioned places.
You are required to fill up Health Declaration Form and declare your travel history in the last 14 days. Your temperature will also be taken before boarding the cruise.
Your seat will be allocated according to safe distancing guidelines.
Buffet Dinner servings will be assisted by stewards, to avoid contamination. As the food serving will be done by section within the restaurant, some waiting time may be required.
A thorough disinfecting of the cruise will be conducted before and after every session.
General Notes
Guests are to arrive at Sutera Marina Jetty at least 15 minutes prior to cruise departure.
No outside food and beverages (including Tarap and Durian) are allowed onboard the North Borneo Cruises. There will be a corkage fee applicable for outside beverages.
Consumption of drugs or contraband or conducting of any illegal activity onboard North Borneo Cruises is strictly prohibited. North Borneo Cruises shall hold no responsibility or liability for any guests who participates in such activities.
All guests are required to behave in a respectful manner to the Cruise Captain and all members of the Crew and Cruise Attendants and other guests. Should any passenger display unruly or violent behavior to anyone onboard North Borneo Cruises, the Operator reserves the right to involve the authorities once cruise has reached mainland.
In any situation regarding the safety of the vessel and its passengers, the Cruise Captain holds full authority to make the final decision.
The Operator/Cruise Captain reserves the right to refuse any passenger to board if they are displaying unruly behavior under the influence of alcohol or drugs, without any refund.
Any damages or loss to equipment onboard or the cruise due to negligence or unruly behavior must be replaced or repaired by the passenger responsible.
North Borneo Cruises will not be liable for any injury received by passengers that are caused due to negligence or unruly or violent behavior onboard.
Children (11 years and below) are to be supervised by an adult at all times. North Borneo Cruises crew and cruise attendants is not responsible or liable for them.
Passengers with disabilities must be accompanied by a carer at all times. North Borneo Cruises crew and cruise attendants will take reasonable care in bringing them onboard, but is not responsible or liable for their movement while onboard.
We will require your passport/MYKAD number for registration.
Related Packages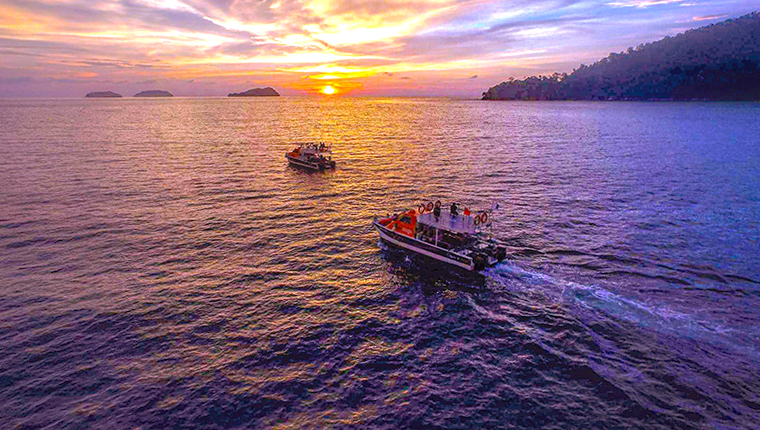 SEATANGO SUNSET CRUISE
Admire the stunning natural assets that gild the coastline - friendly sun-rays on textured sands, islands on glossy ocean beds just off the city's shore...
From MYR 180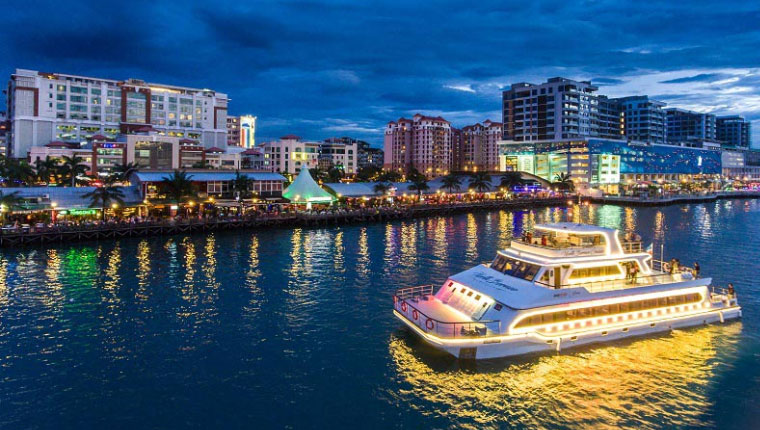 KK CITY NIGHT DINNER CRUISE
Take sightseeing up a notch with coastal views from a breezy upper-deck and create treasured moments under a starlit sky as you glide pass Kota Kinabalu's waterfront...
From MYR 188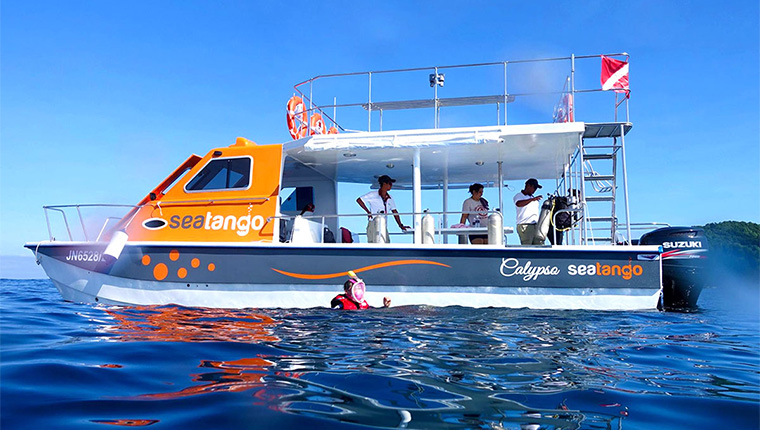 PRIVATE CHARTER
Customise your very own itinerary on SeaTango private charter - birthday parties, corporate outings, wedding photoshoots or even proposals. Featuring a sun deck, front deck, spacious main area, and equipped with a toilet and fresh shower, our catamaran has ample room to cater up to 24 pax of guests...
Enquire Now