OPEN WATER DIVING COURSE
TOUR CODE: ABK-DVC01
REGION: KOTA KINABALU / TUNKU ABDUL RAHMAN PARK
DURATION: 3 DAYS

* All timings are estimated and for reference purposes only. Actual timing will be provided prior to your departure.
Course Objectives
To provide knowledge on the effects of the underwater environment on the movement and physiology of divers.
To understand the safety rules of Scuba Diving.
To educate student divers on purpose, features, types of equipment used during the course.
Demonstrate the correct procedure for assembling and disassembling the scuba unit and auxiliary equipment.
Program Outline
This course will introduce students to the Theory & Practice of Scuba Diving. Students will be taught essential skills of adapting underwater, the utilization of scuba equipment as well as dive planning and communication skills underwater.
Additionally, the course also covers boat diving procedures, problem management, health in diving, breathing air at depth, special dive table and computer procedures, basic compass navigation, use of the dive tables, physics and physiology, skills development in confined and practical application of skills in open water training dives.
Mode of Assessment
Mastery of knowledge and skills is assessed through Quizzes, Reviews and followed by a Final exam with a minimum score of 75%. Student demonstration of skill proficiency and competency in water will also be evaluated.
About the Location
With 300 islands and many more dive sites (some are still waiting to be explored), Sabah offers a smorgasbord of enchanting scuba diving experience for both the novice and the seasoned divers.
Led by the world-renowned island of Sipadan, which is once described by Jacques Cousteau as an 'untouched piece of art', Sabah's islands offer dive sites with magnificent underwater diversity. With excellent visibility, you can expect to spot rainbow-coloured fish, barracuda swirls, graceful sea turtles and hammerhead sharks.
The east coast of Sabah is an opulent dive paradise, there is something for absolutely everyone! The dive sites off Mabul island, for example, is famous for its muck diving--a dive-term for diving in a muddy or mucky environment.
Overview of Course
Get Certified! Take a Scuba Lesson with the PADI Open Water Diver course in Kota Kinabalu. Why not?
Exploring another frontier

So, you've been walking on the face of this earth all your life. Doesn't it make you just a little bit curious to know what it's like to breath and move about under water? There's so much more to be seen and explored under the deep blue sea, just ask any scuba diving junkies out there.

Gaining a deeper appreciation for the ocean

The ocean plays a huge role in the maintaining and regulating of climate. Did you know that the ocean is the largest carbon sink in the world? Some 93 percent of carbon dioxide is stored in algae, vegetation, and coral under the sea. Therefore, the marine ecosystem is extremely important in keeping global warming in check. As you see more of the ocean and the contents of its underbelly, you will feel a stronger need to protect it.

Learning more on how to be eco-friendly

Once you have learned to appreciate the ocean and all its important roles in the cycle of life, you will automatically be more savvy and aware on how your lifestyle can affect the ocean. Did you know that plastic is the most common element that is found in the ocean? It is harmful for the environment as it does not get break down easily and is often considered as food by marine animals. Knowing this and how it affects the ocean life, you will make lifestyle changes to make a difference.

The PADI Open Water Diver course is the world's most popular scuba course, and has introduced millions of people to the adventurous diving lifestyle.
Why Book This Diving Course?
For some, the allure of scuba diving lies in the opportunity to discover the beauty of the reef and the marine life that inhabits it. For others, it's the thrill of exploring a wreck or a sunken cave -- everyone has a different reason for loving scuba diving, but most would agree that it's for the sheer enjoyment of experiencing the underwater world and the uncovering of the great unknown. Who knows, you might get a chance to swim alongside a shark one day?
Whether you want to relax while photographing brightly-coloured tropical fishes (hello, Nemo!), be thrilled by the graceful swirl of barracudas in Sipadan island, or make a living working underwater, scuba diving has it all. It's now waiting for you to come explore!
Diving Location
Why Dive in Sabah?
Blessed with some of the most ecologically diverse waters in the world, Sabah offers a variety scuba diving experiences depending which scuba diving site you choose to dive in. The pristine coral atoll of Layang-Layang island offers a chance to swim among the hammerhead sharks, while the legendary Sipadan island teems with cavorting turtles and breathtaking barracuda vortex. There's always something weird and wonderful to be discovered in Sabah's incredible macro dive sites.
Course Itinerary
A good foundation is the key to great results! The course starts with divers watching a video of a necessary information to know before plunging yourself into open waters. We'll then be reviewing key points mentioned throughout the video followed by a short quiz. No classroom will be complete without at least one exam. The exam will consist of multiple choice-based questions.
Classroom (Part 1)
Watch open water video chapter I-III
Knowledge review chapter I-III
Quizzes chapter I-III
Classroom (Part 2)
Watch open water video chapter IV-V
Knowledge review chapter IV-V
Quizzes chapter IV-V
Exam
Meal: Lunch
Class dismissed and now it's time for the fun part; getting into the water! We're starting off slow and easy with 10-minutes of swimming and floating without swimming aids. Once you're comfortable, we'll be taken over to shallow waters for Confined Dive 1 – 3 to practice a few basic diving skill exercises. After your Confined Dive, you'll be taken to your first Open Water Dive experience!


Pre-Dive
10 minutes swim / float without any swim aids.
Diving gears preparation
Dive 1
Confined water dive I-III OR confined water I & open water I

Duration: 40 – 45 minutes
Max Depth: 12m
Dive 2
Open Water Dive 1 OR Confined Water Dive 2 – 3
Duration: 40 – 45 minutes
Max Depth: 12 metres
Dive 3
Open Water Dive 2
Duration: 40 – 45 minutes
Max Depth: 12 metres
Meal: Lunch
Pre-Dive
200 metres swimming test or 300 metres swim with mask, snorkel and fins.
Dive 4
Confined water IV-V.

Max Depth: 18 metres
Duration: 40 - 45 minutes
Dive 5
Open water dive III

Duration: 40 - 45 minutes
Max Depth: 18 metres
Dive 6
Open water dive IV

Duration: 40 - 45 minutes
Max Depth: 18 metres
Meal: Lunch
~ End of Tour ~
Course Prices
CATEGORY
MALAYSIA
(Per Pax)
INTERNATIONAL
(Per Pax)
Adult
Minimum 2 to go
MYR 1,430
MYR 1,150
MYR 1,430
MYR 1,350
Note:

Rate Per Person is based on Join-In Tour Basis (shared guide & vehicle).
All rates displayed are quoted in Ringgit Malaysia (MYR).
All rates displayed are inclusive of 0% Goods and Services Tax (GST).
Diving max 30 pax (based on 2 boats, 15 pax per boat).
4 divers to 1 instructor.
For Single Travellers who are taking the course, additional MYR 300 is applicable (Course will be one-on-one basis with PADI Diving Instructor). If Single Travellers combine with another group, 2-3 pax group price is applicable.
Child Policy:
The minimum required age for those who wish to scuba dive is 10 years old.
Inclusions
Meals
3 Lunch & Drinking Water
Inclusions
2-Way Boat Transfer, Meals as Stated, Diving Instructor, Diving Manuals, Diving Equipment, Dive Certificate, English Speaking Support Team, Sabah Park Entrance Fee, Sabah Park Diving Fee.
Exclusions
Tipping (Optional), Alcoholic Drinks, Personal Travel Insurance and Any Items Not Mentioned.
KD – Knowledge Development (online, home study or in a classroom) to understand basic principles of scuba diving.
CW – Confined Water dives to learn basic scuba skills
OW – Open Water dives to review your skills and explore!
The course will contain 5 KD session, 5 CW session and 4 open water dives.
The Learning Materials Your Have
Open Water Diver manual (international languages is available)
PADI Recreational Dive Planner – table version
Logbook
PADI's Open Water Diver manual covers what you need to know about basic scuba diving skills, terminology and safety procedures. For each concept you'll read a description and watch a video demonstration. Then you'll jump in to the confined water environment to practice these skills with your instructor. Later, as a certified diver, use the course materials as a reference guide for future diving adventures and to review what you learned.
Minimum age of 15 years old. Participants that are of 10 years of age or older will be awarded a Junior Open Water Diver certificate.
Anyone who is in good health and reasonably fit.
Comfortable in the water or being able to swim.
Before enrolling, please make sure that you are "Fit to Dive". Kindly download the RSTC Medical Statement HERE or ensure that you get the medical statement from us and read it thoroughly, this is for your own safety.
If you answered "Yes" to one of the question, we must request that you consult with a physician and ask him / her to complete Page 2 (physician column) of the form. You will need to pass this to your Instructor prior to the dive activity.
In the PADI Open Water Dive course, you will be using basic diving such as BCD (Buoyancy Control Device), Scuba Regulator, Weight System, and SPG (Submersible Pressure Gauges). Wetsuit, fins, snorkel and mask are all included in your course fee.
Sunblock
Extra Change of Clothes
Swim Wear
Notebook
Towel
Flip Flops
Please get ready the below details in English before attending the course for Certification purpose:

Full Name (First, Middle, Last Name)
Birth Date (Day, Month, Year)
Gender
Address
Note: Your Diving Certificate / Diving License will be sent to this address by courier service
Phone Number
Email
Individual ID Photo (Half-Body, in softcopy)

You are not allowed to dive 18 hours before your flight. Please schedule your flights accordingly.
In the event of bad weather, we will not proceed with the dive tour due to safety precautions.
Boat journey to the Island may not be suitable for individuals who have any of the following conditions but not limited to: heart or lung conditions, recent surgery, back or spinal surgery, back problems/injury/fracture, arthritis, osteoporosis or other similar spinal/pelvic diseases. Pregnant women are also not recommended as the boat ride may be bumpy depending on the sea condition. If you are having similar issues as above, kindly consult your physician before you enrol in this activity.
You will need to sign the PADI release & liability form before proceeding for your dives.
Kindly follow the instructions of your Dive Instructor or Dive Master at all times.
Alcohol consumption during your dive course or trip is NOT RECOMMENDED.
Kindly inform in advance if you have any health concerns.
Conservation of the Underwater World - Harming of coral or marine life is strictly not allowed.
You are advised to purchase personnel injury & travel insurance prior to your trip.
Related Packages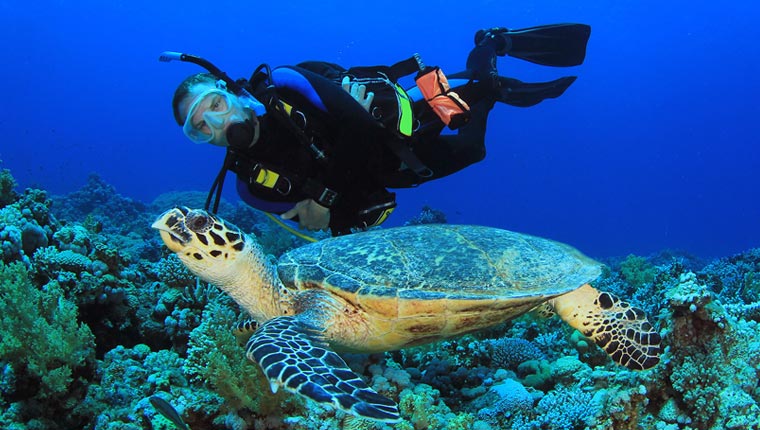 Suitable for any Open Water certified diver seeking to upgrade your diving skills, equipping you with important skills that instills confidence as you venture deeper into the exciting underwater world...
From MYR 1080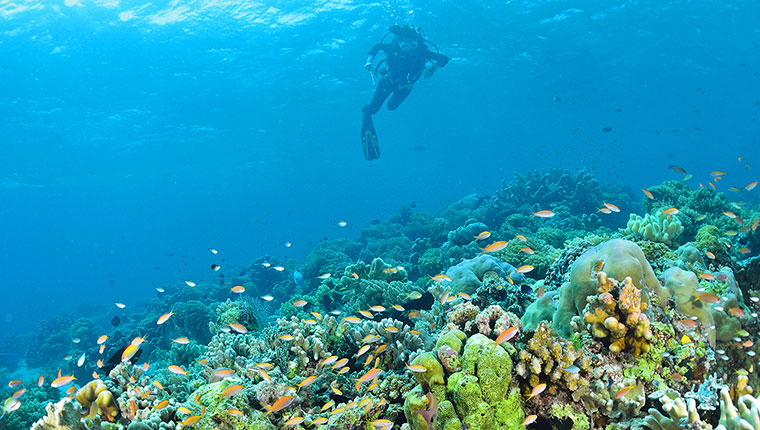 SEATANGO'S BALLROOM
Delve into SeaTango's Ballroom - an uncharted diver's paradise in Sabah, Malaysian Borneo inhabited by diverse coral reefs and aquatic wildlife! A marine exploration perfect for seasoned divers...
From MYR 390
DISCOVER SCUBA DIVE
The best choice for the first-timer - experience the sensation, perhaps see a small amount of marine life, all whilst under very close supervision of an instructor...
From MYR 330