BEAUTIFUL TWIN ISLANDS HOPPING
TOUR CODE: ABK-S01
REGION: KOTA KINABALU / TUNKU ABDUL RAHMAN PARK
DURATION: 7 Hours
* All timings are estimated and for reference purposes only. Actual timing will be provided prior to your departure.
Tour Highlights
Visit the Beautiful Twin Islands of Manukan & Sapi
Snorkeling Equipment Included
Tunku Abdul Rahman Islands
Manukan Island
A 15 minute boat ride from Kota Kinabalu City takes you to good time and salty adventures on Tunku Abdul Rahman marine park., a cluster of 5 jungly humps dotting Sabah's west coast. With 4, 928 hectares of designated protected area, it definitely isn't short in supply of swaying palm trees, crystal clear waters, sun soaked shores nd seascapes teeming with marine-life.
Activities Included
Nature Trekking to Sunset Point
Beach Picnics
Beach Volley Ball
Bird Watching
Snorkeling
Scuba Diving
Discover Scuba Diving (Introductory course)
Ocean Kayaking
Kong Boat
Fish Feeding
Jetskiing
Windsurfing
Banana Boat Ride
Parasailing
Sapi Island
Sapi Island, which is shaped like a star, is smaller than Manukan, but is the 2nd most developed and popular island of the Tunku Abdul Marine Park (TARP). The island boasts white sandy beaches and crystal clear turqoise waters. Voted as one of the best snorkeling spots among the TARP islands, there are many colourful fishes and corals that you can find here. There is a sand bank to the north of the island, which, at low tide, makes it possible to cross over to the south western tip of Gaya island.
Activities Included
Sapi Jungle Trekking (30 mins return)
Beach Picnics
Beach Volley Ball
Bird Watching
Snorkeling
Scuba Diving
Discover Scuba Diving (Introductory course)
Ocean Kayaking
Fish Feeding
Jetskiing
Windsurfing
Fly Fishing
Banana Boat Ride
Parasailing
Sea Walking
A Guide on Sea Sport Activities Price List
Type of Activity
Minimum Pax
Price
Banana Boat Ride
4

MYR 45

/ pax
Fly Fish
2

MYR 75

/ pax
Parasailing (Single)
1

MYR 106

/ pax
Parasailing (Double)
2

MYR 190

/ pax
Jet Skiing (Per Half Hour)
1

MYR 175

/ Unit
Kong Boat
3

MYR 75

/ Unit
Sea Walking
1

MYR 250

/ pax

NOTE

This tabletable acts as a guideline only. Price subject to changes.
All payments will be made directly to the sea sports operators.
No prior booking required.
Sea sports will not be conducted during bad weather for the safety reasons of the guests.
Islands Hopping Location
Sample Itinerary
Upon arrival at the Jetty, another short 20 minute boat ride ushers you to your first Island stop. Soak up the Vitamin Sea, take a dip and indulge in all the tranquility the island offers.
Hop back on a speedboat for your next island stop, Sapi Island, where the fun in the sun continues. if all the tropical splendors has worked up an appetite for you, a seafood BBQ by the beach awaits you.
It is Free & Easy for the rest of the day. You may continue your sea sports activity if you wish.
As evening creeps in, prepare to pack up and standby by the island jetty for a return boat ride to Kota Kinabalu jetty.
Meal: Lunch
~ End of Tour ~
Tour Prices
CATEGORY
MALAYSIA
(Per Pax)
INTERNATIONAL
(Per Pax)
Adult Traveller
Minimum 4 to go
MYR 340
MYR 195
MYR 340
MYR 225
Child Traveller
Accompanying a group of Adults
MYR 240
MYR 145
MYR 240
MYR 165
Note:

Rate Per Person is based on Join-In Tour Basis (shared guide & vehicle).
All rates displayed are quoted in Ringgit Malaysia (MYR).
All rates displayed are inclusive of 0% Goods and Services Tax (GST).
Child Policy:
- Child rate applies for children between 3 - 11 years old.
- Infant below 3 years old is FOC.
Inclusion
Meals
1 Lunch
Inclusions
2-Way Boat Transfer, Meals as Stated, Entrance Fee to Sabah Parks - TARP Islands, Jetty Fee, Snorkeling Equipment (Snorkel Mask, Life Jacket) and English Speaking Guide
Exclusions
Tipping (Optional), Alcoholic Drinks, Personal Travel Insurance and Any Items Not Mentioned.
Bathing suit
Quick Dry T-shirt
Shorts
Sun hat/Cap
Sunglasses
Sandals/Flip Flops
Sun block / Tan lotion
Hat / Cap
Swimming attire
Sandals or Slippers
Drinking water
Please do not bring valuables as there are no lockers on the islands.
Boat journey to the Island may not be suitable for individuals who have any of the following conditions but not limited to: heart or lung conditions, recent surgery, back or spinal surgery, back problems/injury/fracture, arthritis, osteoporosis or other similar spinal/pelvic diseases. Pregnant women are also not recommended as the boat ride may be bumpy depending on the sea condition. If you are having similar issues as above, kindly consult your physician before you enrol in this activity.
We will not know when is the jelly fish season as it varies. Usually it occurs during mid of the year or/and end of the year. Just be extra careful and inform our guides should you be bitten. Our guides are first aid trained.
Jelly bugs are common in the waters but they are usually harmless and it will just cause some slight itch.
The two islands that you will be hopping to are Manukan Island and Sapi Island. Occasionally, we may change one of the islands to Mamutik. It depends on the crowd, water, jetty and or logistics situations, and this will be decided by our experienced operation team. Kindly note that we have stopped going to Sulug Island due to safety reasons such as water currents and damaged jetty.
Everyone needs a little bit of vitamin "sea"! Islands are one of Sabah's most sought after attractions, and they do tend to get a little bit crowded during the Weekends, Public Holidays, and Peak Seasons from July - August.
Your belongings may get wet. You can bring along waterproof bags such as dry bags or plastic bags to keep your belongings nice and dry!
Before going out for some fun in the sun, you may bring along some SPF50 sunscreen and an umbrella to protect your skin.
For any Island tour, if you're interested in water sports (ie banana boat, seawalking, parasailing, etc), be sure to bring along a little bit of extra cash as these activities are not included in our tour package.
Related Packages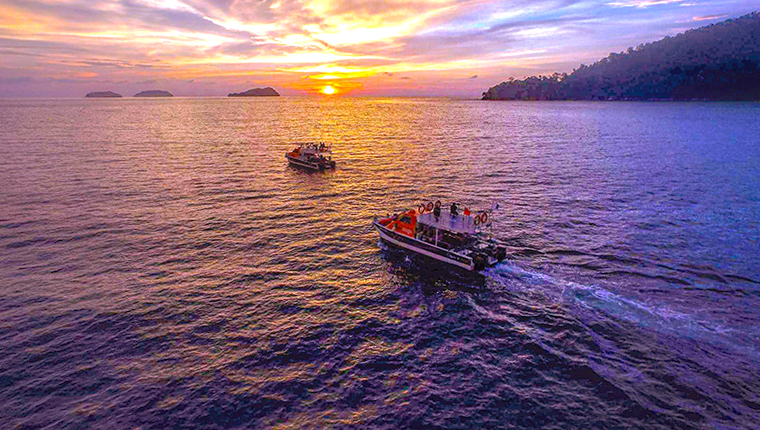 SEATANGO SUNSET CRUISE
Admire the stunning natural assets that gild the coastline - friendly sun-rays on textured sands, islands on glossy ocean beds just off the city's shore...
From MYR 119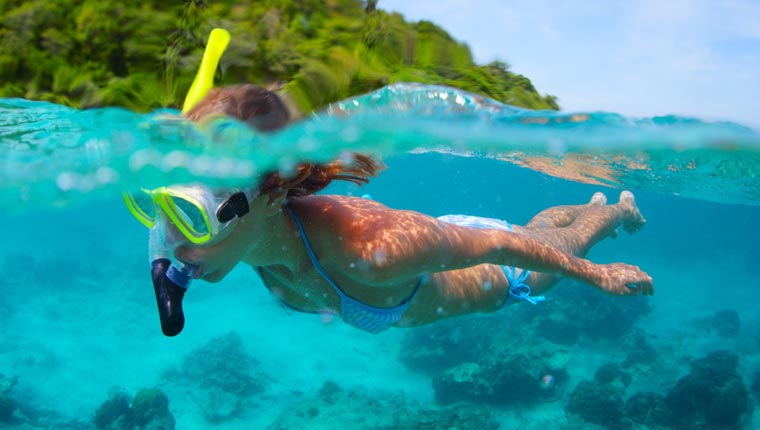 FUN BOAT SNORKELING & ISLAND VISIT
Feel the pull of oceanic magic, Snorkeling is the best way to Discover the beauty of the deep blue sea. Anyone can join in on the fun regardless of Age and Skill...
From MYR 195
DISCOVER SCUBA DIVE
The best choice for the first-timer - experience the sensation, perhaps see a small amount of marine life, all whilst under very close supervision of an instructor...
From MYR 330